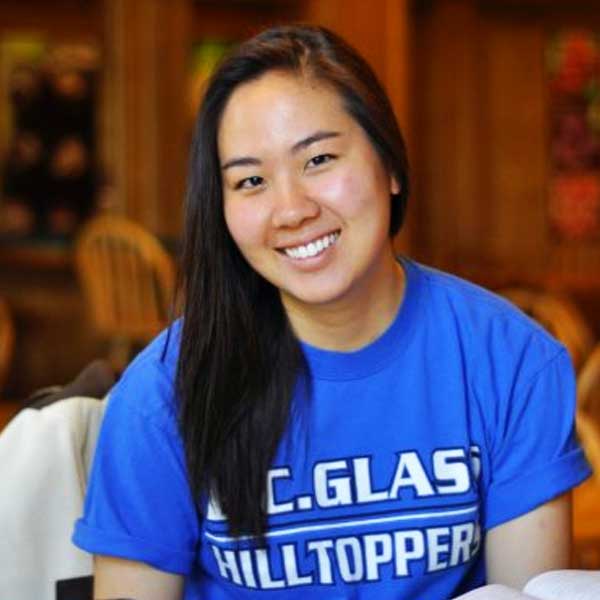 Name: Jamie
Career: Project Manager
Company Field: Healthcare IT
Located In: Madison, Wisconsin
Grew Up In: Plano, Texas
Graduated From: Cornell University
Majored In: Government
Graduated In: 2012

After College Lifestyles
Account/Project Managing
Madison
Cornell University
Jamie is a Medical Software Implementer for Hospitals at a company called Epic located in Madison, Wisconsin. Jamie is a project manager and has many daily tasks: no two days are the same. Her job entails so much more than making sure hospitals implement the medical software properly. Learn how she got into this field with a degree in Government.
Overview:
Name: Jamie
Career: Project Manager
Company Field: Healthcare IT
Located In: Madison, Wisconsin
Grew Up In: Plano, Texas
Graduated From: Cornell University
Majored In: Government
Graduated In: 2012
Quick Stats on Implementing Medical Software for Hospitals
Work Hours/Week: 60-70 hours
Work Hour Flexibility: Medium
Quality of Lifestyle Outside of Work: High
Work Stress Level: High
Level of Routine Work: Low
Interaction with Co-Workers: High
Pay Level (out of 5): $$$$
Life of a College Grad Project Manager
I'm a project manager (industry term: implementer) for Epic, a company that makes software for large hospital organizations. I work with IT teams and leadership at various hospitals to implement an integrated system to provide more efficient, safer, and streamlined care for both inpatients and outpatients, traveling frequently to the sites during the install. Back in Madison, I conduct customer meetings over the phone and also participate in the internal development of the software and the company. Our company motto is, "Do Good, Have Fun, Make Money," and we take all three pretty seriously.
Project Manager's Daily Routine:
6:45 AM Wake up, make breakfast
7:30 AM Leave for work
7:45 AM Arrive at work, get coffee, check emails
8:30 AM Meet with my customer team to prioritize issues for the week
12:00 PM Fill out a weekly status report, troubleshoot smaller issues in the system
12:30 PM Internal team meeting for my Epic teammates on my install
1:00 PM Grab lunch with friends in the cafeteria
2:00 PM Attend division meeting
3:00 PM - 4:00 PM Work on my own training project for additional certifications, meeting prep for our get-together with the international staff
4:30 PM 1:1 feedback time with my adviser on the install
5:00 PM Leave work, drive to the gym
7:00 PM Read books, write letters, personal emails
11:30 PM Sleep

How To Get Into The Field
I did a lot of project management through extracurricular activities in college, which I found I really enjoyed. My friend who works in technical services here referred me to the implementation role. Initially, I was wary because government doesn't directly relate to either project management, healthcare, or IT, but I found that my co-workers in my role have studied/worked in human resources, elementary education, and communications, so we all bring a hodge-podge of experience to the table. We learned all the things we needed about the software during training, but most of us were hired for the skills and potential we had for project management.

What Do You
Really
Do?
Every day is different - no two days are alike! Implementers like me are the main point of contact for the customer through the install, so we meet with and guide them through the phases of the implementation: discovering what they currently do in their day-to-day tasks, validating how Epic can work for them and finding ways to make their current processes better, building the system, testing our build, training it, and then going live on the software. Their success is our success! Internally, we work in groups to get feedback about the system from our customers and improve the software. I also mentor new hires and meet regularly with our international staff who are working on overseas installs to give them the latest updates on the system.

Pros/Cons of Your Job
One of my favorite parts of my job is that from the get-go, I had a high degree of responsibility and expectations for excellence. We dress very casually in the office and my co-workers are generally very driven, effervescent, motivated people who love working together to get a job done. I'm free to set my own hours as long as I do my work and am present for the people I work with. That being said, the work hours can increase depending on the phase of the project and frequent travel is required, which can sometimes interrupt my personal routines in Madison.
Tour My Madison, Wisconsin House
Quick Stats on Madison, Wisconsin
Job Opportunities: Medium
Competition for Housing: Low
Housing Cost: Low
Population of Young People: High
Nightlife: Medium
Safety: High
Biggest Industries: Government, Education, Healthcare
The Life of a College Grad In Madison, Wisconsin

What's it Like to Live Here?
Madison is routinely ranked one of the best places to live - and for good reason! The cost of living is low, the population is generally young and highly educated, and there are several lakes and state parks around if you like being outdoors. Madison is very picturesque - winters are not especially harsh, and summers are absolutely beautiful. We have a hipster East Side, suburban West Side, a large university, and the state capitol building downtown. Midwesterners are, by culture, very nice people, and both Epic and the university attract people from out of town to make the town more urban and diverse.

How Did I End Up Here?
I grew up mostly in north Texas, lived in Central Virginia during high school, and went to college in upstate New York. So I was pretty open about moving anywhere right after college, but I definitely wasn't expecting to move to Wisconsin! After a typical phone catch-up with a friend who had graduated a year before me, he suggested I apply to the company he worked at. I applied, but was wary about moving to Madison and working in healthcare IT until I went onsite for an interview and fell in love with the town and the company. Most employees at Epic are recent college grads, under age 30, and not necessarily from a healthcare background, so feeling comfortable at my job was not a problem.

My Set-Up
My roommate is my friend from college who started work at Epic a few months after I did. We live in a 2BD/2BA townhouse-apartment on the west side of Madison, about 10 minutes from work. It's closer to work and is in a quieter and cheaper location than downtown, but we have easy access to a highway that goes to downtown, the East Side, and the airport (great for my frequent travel!).
Closing Advice
You don't have to get a job in your major to be happy and successful at it. I learned everything about healthcare and IT on the job - I was hired for the skills I already had and accepted the job offer because of the highly motivated and friendly co-workers, expectations for excellence, and meaningful work. Remember my company's motto from earlier in this post? Join a team that has the same values you do and you can thrive.