Men's Work Style Closet Tour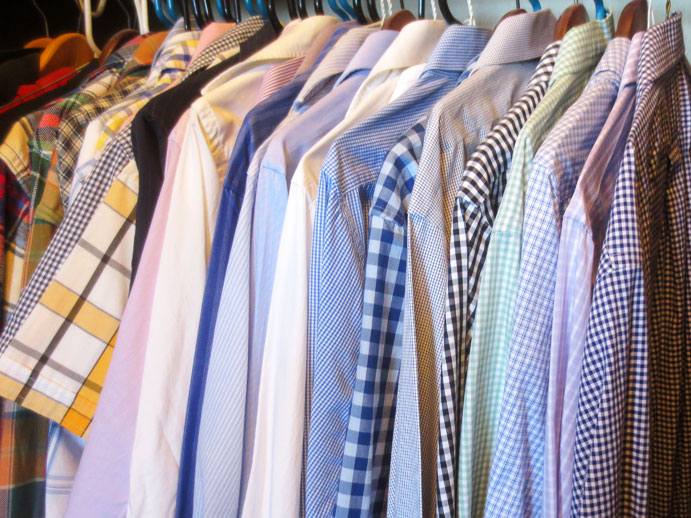 I worked in Silicon Valley doing online marketing. The office environment is a lot more casual on the West Coast. Because I was a marketer, I thought I needed to always look fresh and stylin'. These are the clothes that I wore to the office every day (before getting a job working from home). Now days, these clothes go mostly untouched unless I go to a conference or meeting.
Checkered Print Adds Style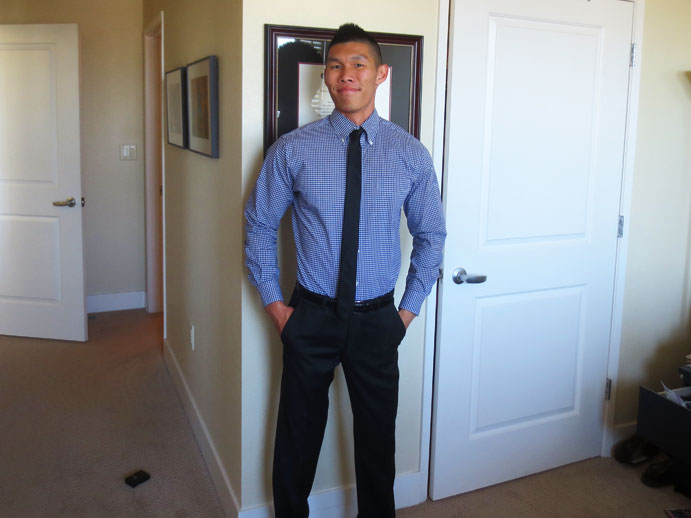 Dark Purple Ralph Lauren Business Shirt
This was one of the first shirts I bought after college. I bought it with a Macy's giftcard during a sale. It is a Ralph Lauren "no iron" shirt. The color immediately caught my eye while I was shopping. And I loved the fact that the shirt didn't get wrinkled. I have probably worn this shirt more than any other to work.

Shirt: Ralph Lauren
Tie: Express Mens
Slacks: Hugo Boss
Checkered Print Keeps it Young
Blue Lacoste Checkered Print Shirt
This is my favorite shirt (and probably the only one I actually wear outside of work). I bought it at a Lacoste Outlet Store. This isn't really a business shirt and so I would usually match it with a dark solid skinny tie for work (I got the one in the picture from Top Man in New York City for $9).

Shirt: Lacoste
Tie: Top Man
Slacks: Hugo Boss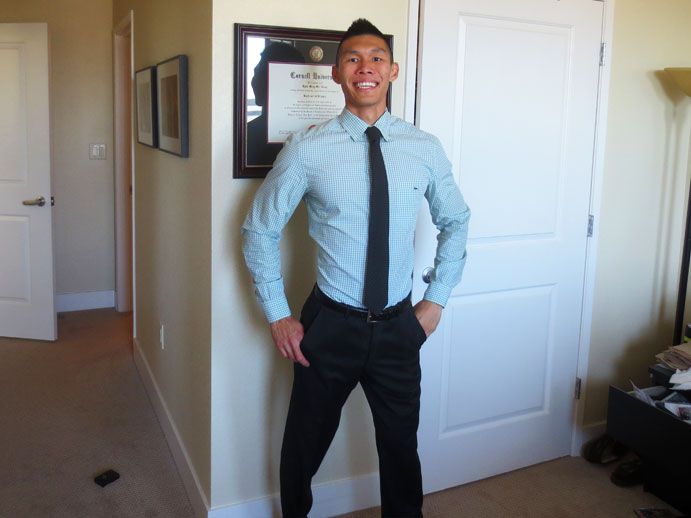 Light Green Lacoste Checkered Shirt
Here is another checkered Lacoste shirt. I liked how the Lacoste shirts fit me (more of a slim/tapered fit, which they called "modern fit"). I got this one from my sister for my birthday. I like to match it with a darker tie like the one pictured (which I also received from my sister for Christmas).

Shirt: Lacoste
Tie: Express Mens
Slacks: Hugo Boss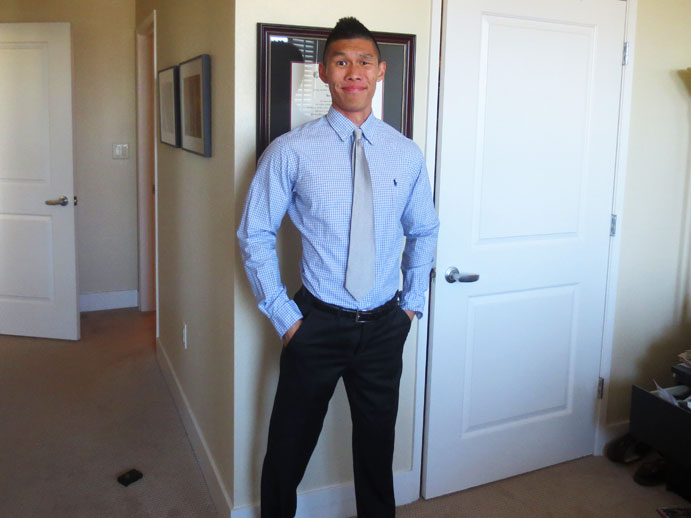 Polo Ralph Lauren Business Shirt
Here's another staple shirt that I would wear to work often. I would receive a lot of compliments for this shirt (which I got from a Polo Ralph Lauren outlet store). This time I matched it up with a lighter colored tie (this is because I used to think that the shirt by itself looked a little "old").

Shirt: Polo Ralph Lauren
Tie: Versace
Slacks: Hugo Boss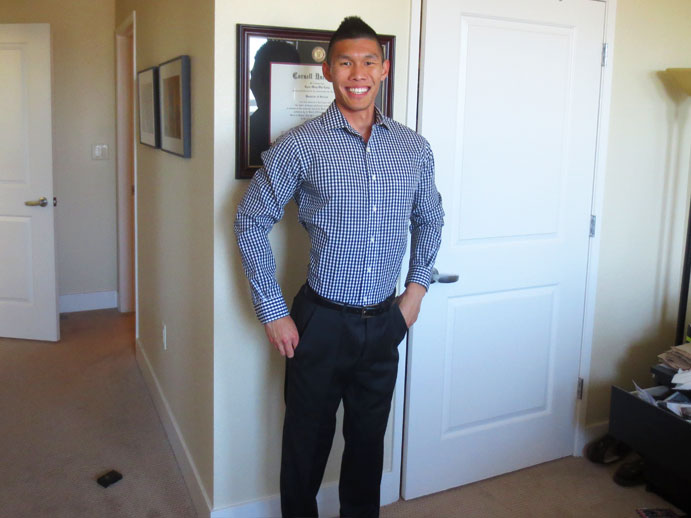 Brooks Brothers Checkered Work Shirt
A lot of the times I would go to the office without a tie (it was never required to wear a tie at work; I just thought I looked sharper with one). I got this shirt for Christmas from my parents. Brooks Brothers is definitely an East Coast thing. I remember all of my classmates at Cornell would wear this company (and I always wanted a shirt from here).

Shirt: Brooks Brothers
Slacks: Hugo Boss
How To Iron Your Shirt
Matching Your Checkered Business Shirt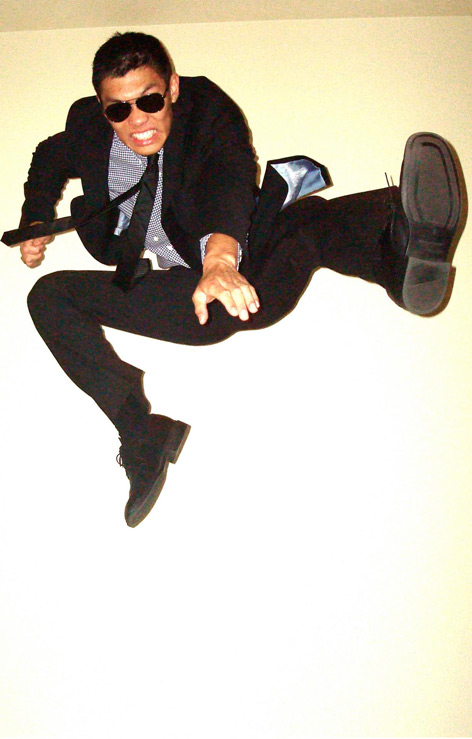 Checkered shirts can get very "loud" and may not always be appropriate for the office. Many times, this can be solved by wearing a jacket or matching it with a tie. Since the shirt pattern is busy, I often match it with a solid-colored or dark tie (i.e. black, dark grey, navy, etc.). Most of my ties are from Express Men as they are a lot cheaper, younger, and of high quality (and look sharp).

The next time you are looking to purchase some more work clothes, keep an eye out for these checkered-print shirts. (As you saw, I usually go with Lacoste, Ralph Lauren, and Brooks Brothers.) They can make you look sharp and get you some compliments at work.