1. Recycle Wood
It's a sustainable material and it often goes to waste!
Lots of wood gets pitched because it's either done being used or it's not absolutely perfect– but it works great for home projects! My main plug here is pallet wood; pallets are made to be sturdy and weather-proof in most cases, which means your projects will last longer. Go to craigslist, and search for pallets. People are usually giving them away everywhere. Also, ask about your local home depot's discount lumber bin– chances are you'll find just what you need.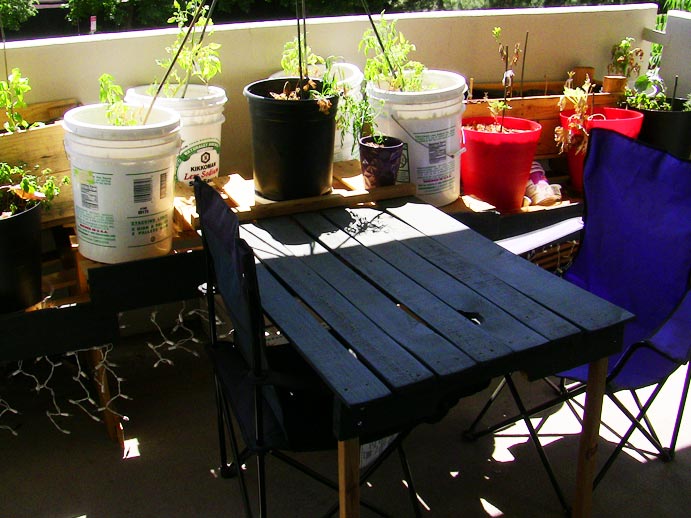 I made this table (along with my garden shelving) out of free pallet wood and paint. I just disassembled the pallets, reassembled the boards into this table, sanded the top, and painted the top black. Check out this book for more inspiration: Wood Pallet Projects.
2. Try Building Some Wood Crafts
Wood is good; let some of that natural beauty in!
Whether it's recycled or not, I'm of the belief that a touch of nature is good in any space; having a couple wooden pieces around will add that caring touch. Whether it's a decor piece, a shelf, or a rack to keep your spices in, most wood crafts aren't too tough to make. Next time you're by a library, check out a book about basic woodworking, or just Google it, even. You'll find you might actually enjoy working with wood– it smells great, too!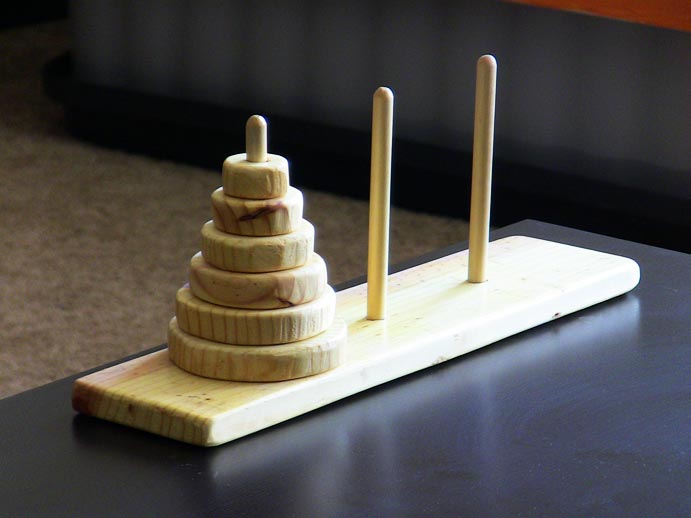 I made this wooden puzzle out of a wooden dowel and part of a board to entertain both myself and guests; I cut out the circles, drilled the proper-sized holes, cut the dowel, smoothed all of their sides, and put some lacquer on everything and…voila!
3. Use Artful Design to Re-Use Materials
Just for kicks, before you throw it away, Google how to re-use it!
This one simply depends on what you've got. Googling 'how to re-use a…' will give you a few new ideas and help you waste less. For example, I loved my old tie-dye t-shirts, but they literally had holes in them. I decided to try a new project that I had seen my grandmother do (and probably her grandmother did, too). I cut them into strips, braided them, and then coiled the braid into a flat spiral. All I had to do was sew the coils together in that shape, and I had made my first home-made bathmat.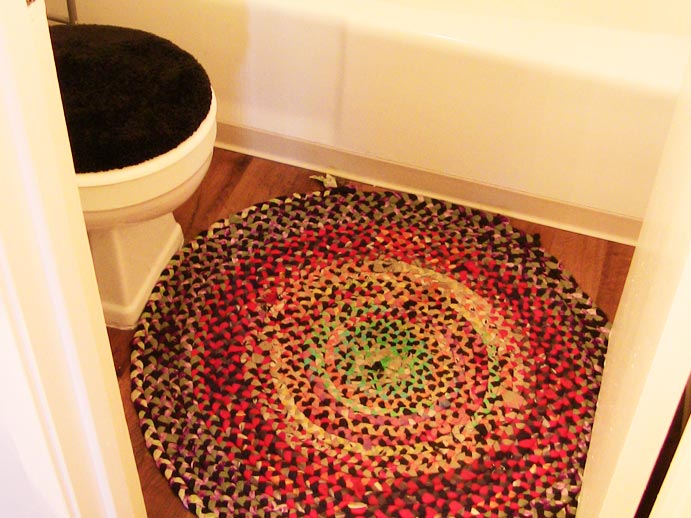 These t-shirts would have been in a landfill and I would have had to buy a new bathmat. Now, everyone goes 'woah, groovy!' when they use my bathroom..
4. Release Your Inner Picasso
Tell folks you're in your 'Jackson Pollock' period and go crazy!
Don't freak out: let me put your worries to bed right off the bat. People have paid a lot more money to hang art that is probably way worse than whatever you will come up with, so don't stress and just have some fun with it! Getting cheap canvas is usually my biggest problem, but using craigslist, habitat for humanity, Ross, or other spots could yield unexpected fruit. Plus, it doesn't have to be canvas– if you can hang it, you can paint on it!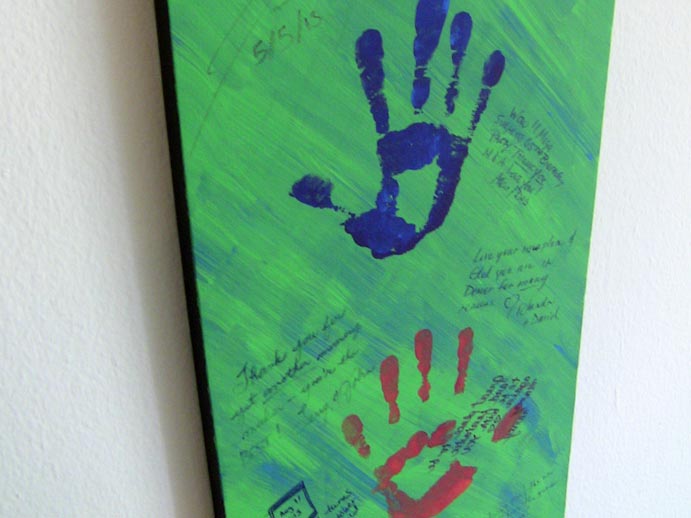 A few tips: painting canvas edges black can create the feeling of a frame without buying one, keeping your technique simple and modern makes art really easy, painters tape will give you clean edges, and if you're still too timid, find a creative friend and hire them!
5. Decorate With Your Own Memorabilia
Whatever you love, why not display it?
I love music, I always have; two of my favorite instruments were the tuba and the piano (ukulele is a close 3rd). So I find it natural, and maybe a bit eccentric, to have them as a part of my dining room! They're fun to look at and they mean the world to me; it's also much more likely that I'll actually play them if they're out on display, since I'm not in a band…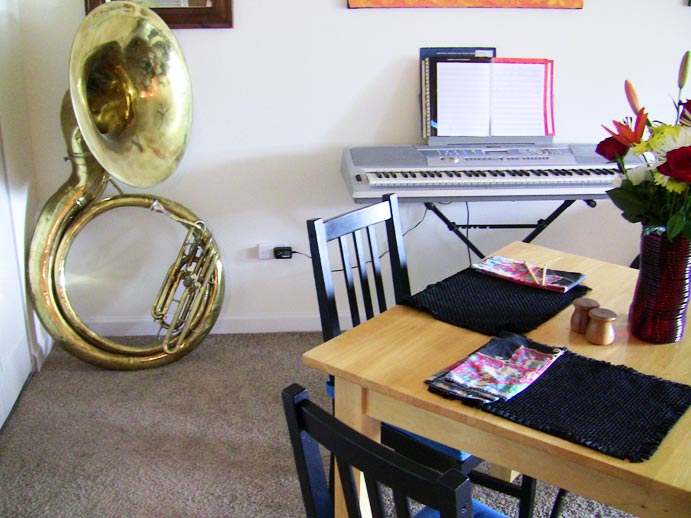 The ukulele's hanging in the kitchen, by the way.
6. Create a Small, Simple Series in No Time
To decorate a space, pick 3-5 of any item and you've got a series!
Some walls just NEED art on them. Art is easy, especially with some paint. Paintings work nicely, but you really just need 3 of an item. That's right, 3 of ANYTHING: left shoes, staplers, frisbees, coat-hangers, cow skulls, etc. and line them up on the wall (bonus points if you're re-using something old from storage). Now leave one the way it is, and decorate the other two in two different ways. Let's say you picked shoes; leave one plain, paint one jet black, and bleach the last one. You'll have three varieties of the same item, and when you hang them up as art, they'll look pretty sophisticated. The key to success here is congruence; make sure they are grouped in such a way that it's CLEARLY on purpose (otherwise, it might look like an accident). And why stop at 3?!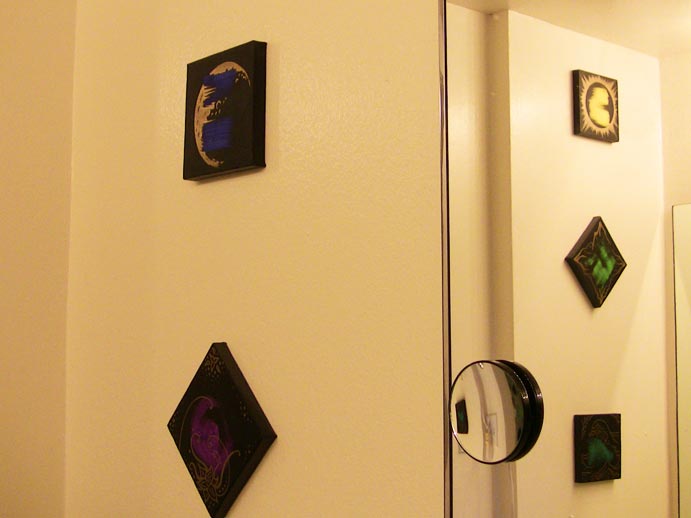 These little canvases were on sale, and I just did a basic painting pattern with some gold details.
7. Re-Use Old Containers
If you haven't seen someone growing a plant in a shoe, you're behind the curve on this one.
We are constantly using containers of all shapes and sizes, but we can do a lot of things with these containers– so don't throw them away! My favorites are odd glass containers; sake and wine bottles, sauce jars, and mason jars. They can become decoration, coffee mugs, containers for dried goods, vases, or coin jars.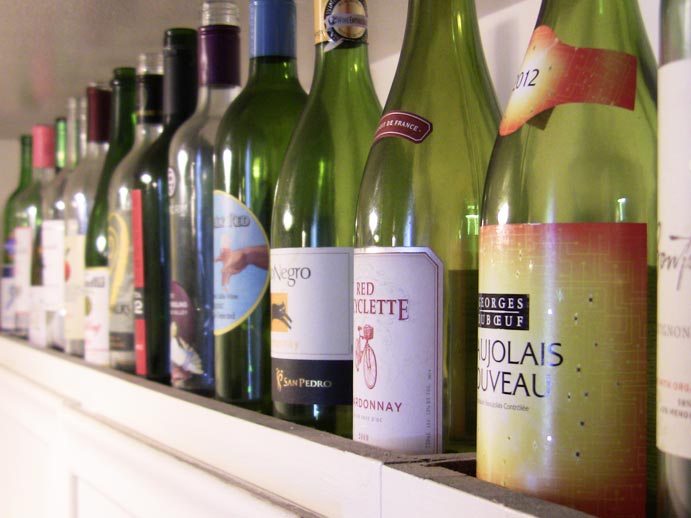 This is our wine journal, and we make it a point not to drink the same wine twice!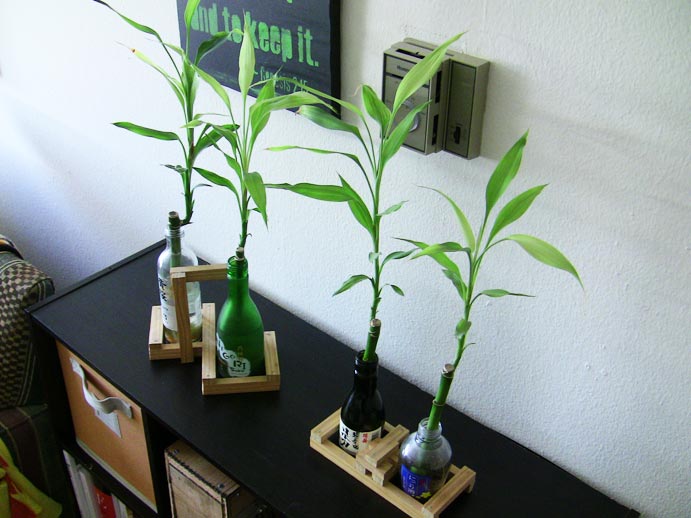 These bamboo have been gracing our living room for over a year, happily sitting in these sake bottles.
D.I.Y. Toolkit
This isn't a hack itself, but it keeps you prepared! OK so a few things that have turned old and boring into new and fun are as follows: paints (acrylic or interior house paints are good all-around), a sewing kit (just needle and thread, really), a multi-tool of some kind, basic tool kit (saw/drill/hammer), colored pencils, and a library card. ANY of these items will come in handy, and most are pretty inexpensive.