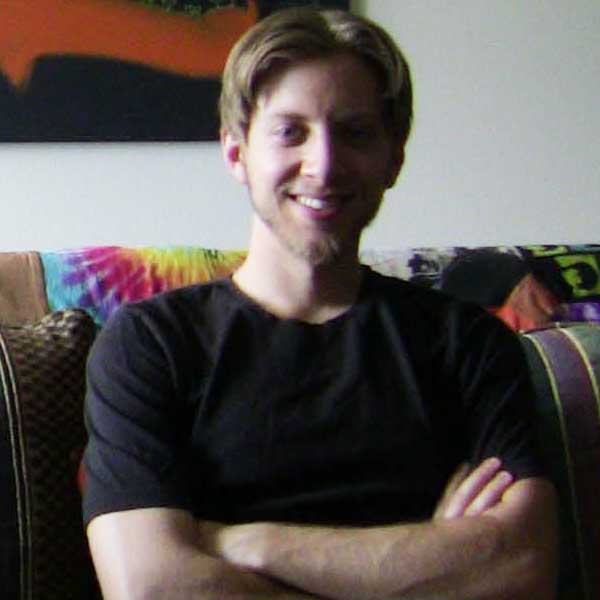 Name: Anders
Career: Chef
Company Field: Healthy Cuisine
Located In: Denver, Colorado
Grew Up In: Littleton, Colorado
Graduated From: Cornell UniversityCulinary Institute of America
Majored In: Hospitality Administration, Culinary Arts
Graduated In: 2011, 2010

After College Lifestyles
Cooking
Denver
Cornell University, Culinary Institute of America
Anders is a Food Prep Coordinator at a Healthy Cuisine Restaurant (True Food Kitchen) in Denver, Colorado. Anders' job entails coordinating with others to help make LOTS of food for the service line. This includes preparing sauces, stocks, soups, and more! See what Anders' life after college is like!
Overview:
Name: Anders
Career: Chef
Company Field: Healthy Cuisine
Located In: Denver, Colorado
Grew Up In: Littleton, Colorado
Graduated From: Cornell UniversityCulinary Institute of America
Majored In: Hospitality Administration, Culinary Arts
Graduated In: 2011, 2010
Quick Stats on Coordinating Food Prep
Work Hours/Week: 40 hours
Work Hour Flexibility: Low
Quality of Lifestyle Outside of Work: High
Work Stress Level: Medium
Level of Routine Work: Medium
Interaction with Co-Workers: High
Pay Level (out of 5): $$
Life of a College Grad Food Prep Chef
I currently work for the True Food Kitchen in Denver, Colorado. I am a lead for the prep team, and coordinate the mass production of fresh, organic foods to be served to our guests. TFK serves gourmet health food for anyone who wants to enjoy fresh, wholesome food; business is booming, which means there's never a dull moment, and I'm learning lots of healthy cooking techniques.
Food Prep Coordinator's Daily Routine:
6:00 AM Wake up
6:30 AM Breakfast and Cartoons
7:00 AM Shift Begins (Fire kits for teriyaki, curry, or bolognese; cook beans; bake hash).
8:00 AM Finish hash, hit first priorities (Hummus, lasagna dough/filling, tomato sauce, portion bags).
10:00 AM Wrap up first priorities, delegate smaller tasks to teammates (tabbouleh, pico de gallo, portion bags, preparing sliced items/grated items, teaching production techniques).
11:00 AM Back-of-house line-up, go over any remaining priorities from the line, and joke of the day (often crude, kitchen humor-- but very funny).
1:00 PM Hitting secondary priorities, accomplishing smaller, lingering tasks (smaller portion bags, grating/slicing items, fresh juice portions, dumpling fillings/production).
2:00 PM Wrapping up secondary priorities and managing last hour of work time (making sure to leave at the scheduled clock-out time: 3PM).
3:30 PM Get home, shed my uniform, and eat lunch-- then fall asleep on the couch.
4:30 PM Work on hobbies, projects, work-related projects, or relax.
7:30 PM - 8:00 PM Have dinner, watch a movie with my girlfriend, work on hobbies.
10:00 PM Bed time. Zzzzzz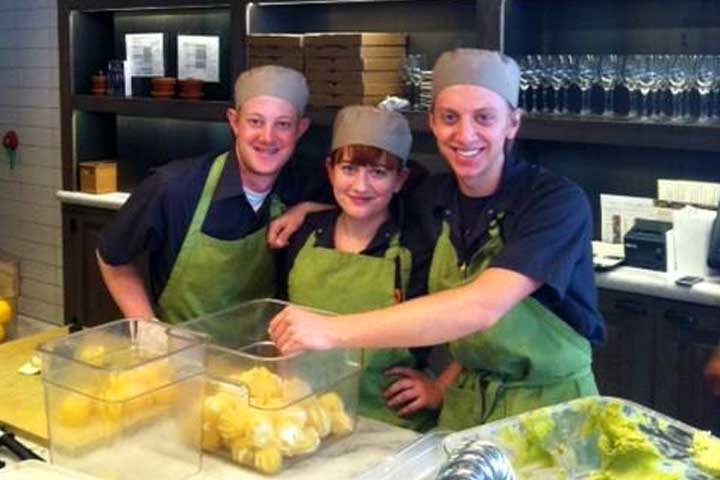 How To Get Into The Field
I studied both hospitality administration and culinary arts, thinking that I wanted to be a chef. I do enjoy cooking, but I eventually decided that the kitchen was not going to be my finale-- I wanted to help formulate and design restaurants and make more of an impact by doing so. Working in a kitchen can be done through an education or the old fashioned way (working up from the bottom). I was lucky enough to do both! From my first job as a dishwasher to my days as a pasta maker, I have gained countless experiences that continually build towards my growth in the industry.

What Do You
Really
Do?
My job is to coordinate others and help them make LOTS of food for the service line. We prepare sauces, stocks, soups, portioned ingredients, dumplings, lasagnas, and fabricate produce into usable forms. Since True Food Kitchen uses all fresh, whole foods, it lives and dies by the prep team; we usually make items by the gallon or by the dozen, and nothing in our fridge lasts more than 2-3 days. We are also a 'line of defense' if something goes wrong on the line; we are very good at fixing culinary accidents/emergencies.

Pros/Cons of Your Job
Let's see...pro's: you get to learn all kinds of healthy cooking techniques, you work with like-minded people (at least with the same sense of humor), you get to eat healthy food every day, and your efficiency level goes through the roof because of the volume of work you are required to do. Cons: the day is long, there's no stopping, you're constantly on your feet, lots of heavy lifting, high stress (depending on the day), and your thirst for working with food is overly-quenched (aka I never feel like making dinner when I get home).
Tour My Denver, Colorado Apartment
Quick Stats on Denver, Colorado
Job Opportunities: High
Competition for Housing: Medium
Housing Cost: Medium
Population of Young People: High
Nightlife: Medium
Safety: High
Biggest Industries: Education, Food & Beverage, Hospitality
The Life of a College Grad In Denver, Colorado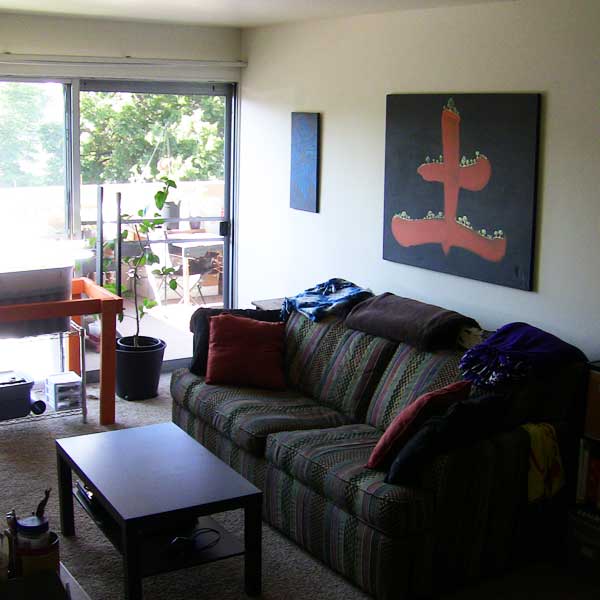 What's it Like to Live Here?
Denver is the perfect place to set up camp; it's a great secret because there's nothing about Denver that screams 'COME LIVE HERE!', but once you're here, you go 'hey--this place rocks!' To mention a few perks: safe, mid-sized city; great cuisine; the 'napa valley' of beer; lots of community gardens; many great museums/attractions; great public transportation; citizens who are actually friendly; progressive mentality; close to some of the world's best outdoor recreation; and the perfect altitude for health and comfort (the dryness buffers against both cold and heat).

How Did I End Up Here?
I grew up here. When I went off to school, my folks moved to Maine, of all places. So post-grad, I had to pick somewhere to go, and since my friends were here and I was already aware of its glory, Denver became my pad. Life in the big C-O is a great fit for us!

My Set-Up
I live in a one-bedroom apartment with my girlfriend, have a 10-minute walk to work, a 10-minute drive to downtown, a 2-minute walk to the mall, and a south-facing balcony! Sound expensive? Not so bad; we pay $1k/month (we each pay half).
Closing Advice
The love you take is equal to the love you make.' In summary, that's pretty much it-- do good, be good, think good, and lots of good will come your way. And do your own thing; everyone's a critic, anyways.